Sunday, August 22, 2010
4:09 PM | Posted by Mel
So guess what?  The second year of blogging has come!  Yes, that IS exciting – but that is not what my exciting news is.
I have been invited to be a teacher in a new, fun quilting venture!!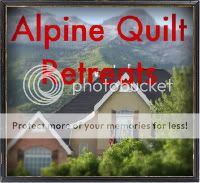 Sydney, who lives in Alpine, Utah is ready to open her beautiful home to quilters who want to get away and spend a weekend sewing!
She is gathering all the best, well known quilters in Utah to each take a weekend and share their enthusiasm and passions for quilting. Well, and me too!
You know these ladies!! Lori Holt of A Bee In My Bonnet, Nanette of Freda's Hive, Sherri from A Quilting Life, Kim from Bitty Bits & Pieces, Amy Ellis of Amy's Creative Side, RaeAnn Nilson of Cutie Pinwheel and Stash Manicure . . . and MORE to be scheduled!!
My first weekend to teach is this coming November 11-13 (2010).  I'm in the process of getting my sample made!!
Here's the fabrics I'm using:
I'm still working out the details of my class but here's a rough sketch for you:
"Quilting Unplugged" 
Learn to make traditional, now popular again, hexagons – apple core – clam shells – and yo-yos.
No need for electricity while hand sewing these charming pieces!  Ideal for traveling, waiting in the doctor's office, cheering at your kid's (grandkid's) games, watching TV with your sweetie or enjoying a relaxing spot outdoors.
Get back to the basics, turn on an old movie or audio book and feel the thread slip through your fingers!
Another idea for class is an easy vintage sheet throw.  I've accumulated some wonderful finds at the thrift shops that would make the most delightful quilt!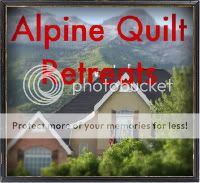 PLEASE go over to Sydney's site and take a look at all the accommodations she has set up, she's thought of everything!  OH!  And retreat guests will be treated to a couple of cooking classes while there, so bonus!!