Thursday, August 26, 2010
10:03 PM | Posted by Mel
Be Aware, Be Thankful
1. Full day Kindergarten
2. Play dates
3. Urban's independence
4. Parent's 45th Wedding Anniversary!
* * * * *
Here's what my "Unplugged" Quilt top is looking like so far.
I've hand sewn the apple core pieces together and am now working on the hexies.  Clam shells and yo-yos are also to be added.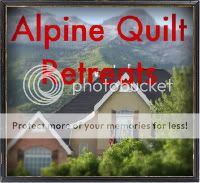 To remind you, this is for the class I will be teaching at Sydney's Alpine Quilt Retreat House this November and again in February.  Go take a look at the wonderful set up and sign up to hang out with me!!
* * * * * *
Here is the latest mini I'm making to take on my trip to Argentina at the end of October.  See more here.
* * * * * *
I've sewn up some Disappearing Nine Patch blocks for September's Bee Square Bee.  This is such a fun block, I hope Jane likes them!
I'm sooooo happy to report that Lissa is still improving!  We had a scare that a femoral artery was blocked in her leg, but we were assured that it's not that drastic.  Whew!
She is able to get herself from her bed to her wheelchair on her own and she's even take a couple of steps!!
There is still time to join in our making a quilt for Lissa!!  If you'd like to sew up a simple block for the cause, click the button to find out all the info.
We are asking that the blocks be sent by September 4th.  You still have a week! ;)
As a thank you to those who send in blocks, I am writing up a pattern for the Americana Mini (shown in this post) to give to you!